2013 Apr 25
Bombastik Attitude releases designer furniture as BIM objects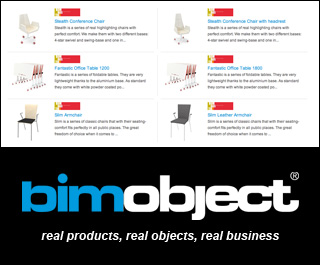 Bombastik Attitude has a wide range of exclusive and functional designer furniture and public furniture for conference facilities, offices, and all public places.
The BIM objects of the Bombastik Attitude range are available for ArchiCAD and AutoCAD. Please follow the link below to see the products on the BIMobject® portal:
Bombastik Attitude
"We are very happy to be able to help Bombastik Attitude publish and market their products to a wide audience. The collaboration with BIMobject® gives them a fantastic opportunity to place their furniture on every architect and interior designers desktop," said Ben O'Donnell, CTO of BIMobject AB.