2013 Jun 19
BIMobject App for ArchiCAD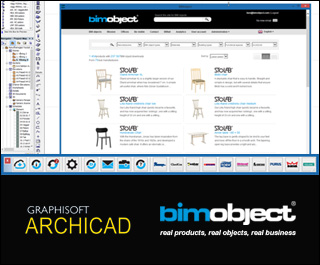 BIMobject® announced today that the cloud integration App for GRAPHISOFT's ArchiCAD, the leading Building Information Modeling (BIM) architectural software developer, has been launched. The App is completely free of charge for all users of ArchiCAD worldwide, giving the ArchiCAD user a toolset to find, source, update and check BIM objects supplied through the
bimobject.com
cloud completely integrated in their software.
The integration is completely unique and is the best-in-class web service integration inside ArchiCAD. The App has functions to quickly browse the BIMobject® cloud database online and find real products from real manufacturers. A simple click to download and the BIM objects are loaded in the ArchiCAD user's project, ready for placement and further configuration.
Another great feature is the ability to check for updates. The App will check to ensure the actual version of the placed object in your project is the same version as on the cloud. If there is a newer version of the actual product in the cloud, the product information can automatically be transferred to the already downloaded files. This is a feature not seen in any other solution and gives a completely new way for manufacturers to update product data and add new properties to already downloaded objects. This solves the issue of keeping and maintaining data up to date, great for both the user and manufacturer.
The App also consists of a BIMail integration. ArchiCAD users now have the ability to send and receive BIMails directly from inside their BIM software, making ArchiCAD "social." Manufacturers have the ability to use BIMail to inform users about product news and updates through BIMail inside the ArchiCAD system.
Another thrilling functionality is the featured manufacturer section where building and interior product manufacturers can obtain their own branded button. It opens the private cloud of that particular manufacturer inside ArchiCAD so the user can browse that manufacturer's products directly. The manufacturers featured will update on a monthly basis through web services, and is directly connected to the cloud solution at
bimobject.com
.
The App for Windows is available for immediate download at
bimobject.com
or from inside the ArchiCAD 17 application. The App is also compatible with ArchiCAD versions 15 and 16. The App will be available for Mac in the second half of July.
Download the BIMobject App for ArchiCAD
View the press release
Visit BIMobject.com
Visit GRAPHISOFT.com