2013 May 15
Render Rally...A Celebration of Speed, Power, and Beauty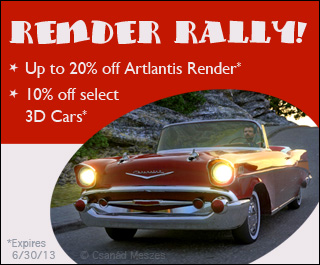 As warmer weather reaches the Northern Latitudes, few words can truly describe the exhilarating feeling of riding in a classic car with the top down, the radio on, and the open road ahead. Nothing comes between you, your vehicle, and the surrounding panorama. In a singular moment, all that speed, power, and beauty are yours. This is what it feels like to use Artlantis.
Artlantis is a fine-tuned balance of speed, power, and beauty. As soon as you drop the first shader, 3D object, or light source into the scene and see the instant preview results, you know you are behind the controls of something incredibly responsive, fun, and easy-to-use. This carries through to the final renderings, which are delivered with amazing speed and superb quality.
Now through June 30,
Objects Online
invites you to take Artlantis Render for a free 30-day test drive. If you love the way it handles, pick up your first seat of Artlantis Render at 20% off and additional seats at 15% off. And because no journey is complete without a good set of wheels, they're also offering select volumes of 3D Cars at 10% off. Get to the Render Rally before it ends!
Certain geographic restrictions may apply. Please contact Objects Online for details.
Render Rally Pricing and Ordering
Download the Artlantis 30-day Demo
Download the Export Plug-ins