2011 Feb 02
Motor City Madness Sale at ObjectsOnline.com!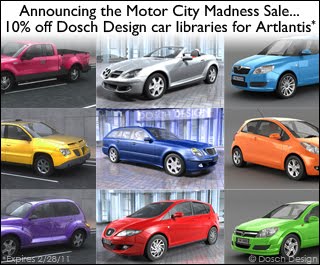 Did you catch the latest car designs from the recent North American International Auto Show in Detroit? If you're like us, the show makes you want to get behind the wheel of a new car, push the pedal to the floor, and bask in that glorious new car smell.

What's this got to do with Artlantis?

Cars. Lots of 3D cars. You want them, and we've got them on sale. Get 10% off featured Dosch Design 3D Car libraries for Artlantis, now through February 28, 2011.