2012 Jul 27
Exciting changes at Objects Online!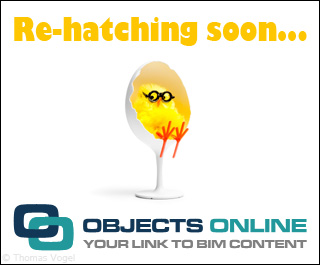 During an election year, there is always a heightened sense that change is in the air. We may not know which way the winds will blow, but when we participate, we become part of a change process that keeps things vibrant, healthy, and renewed. Here at Objects Online, we are also undergoing some exciting changes this year, and your input can make a difference.

In April of this year, Objects Online became a BIMobject franchise. Our goal at BIMobject is to close the gaps that often exist between building product manufacturers and architects by offering a portal where thousands of high-quality information-rich manufacturers' BIM objects can be downloaded in a variety of BIM formats, at no cost to the end user. Furthermore, we are actively developing solutions to bring the portal to you, directly within your BIM software, allowing you to skip the trip to the website...smart, fast, and easy! Sound good?

This is a departure from the original Objects Online business model, where our customers visited our website and paid for the content they downloaded. We believe the BIMobject approach is a better way to serve the industry we know and love, providing a win-win for both architects and manufacturers. As a result, we have decided to discontinue all existing CAD and BIM-related object sales on Objects Online, effective August 1, 2012. We will be rolling out a completely new, streamlined website soon that will continue to focus on the Artlantis product family, while bringing you important news and information regarding the offerings from BIMobject.

Here's where your input can help. There are thousands of manufacturers out there, and we want to know which market segments and manufacturers are most important to you. If there are manufacturers you specify regularly, do they currently have BIM objects? Could their BIM catalog be improved or more fully developed? How would you rate the quality of the accompanying information? What source(s) do you use when searching for and specifying a product? Do you have contacts in or related to the building manufacturing industry who you feel we should be talking to? These are just a few conversation starters...feel free to elaborate. You can participate in our survey or contact us directly, but the important thing to take from all this is that we want to hear from you. We appreciate your loyal support of Objects Online over the past 15 years, and we want to continue to serve you for the next 15 years and beyond in ways that meet or exceed all of your expectations!


Participate in Our Survey


Contact Us Directly


Visit BIMobject


Visit Objects Online