2012 Nov 24
Sock away the savings!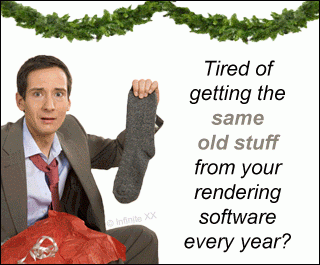 The holidays are always full of surprises. Sometimes, it's a sparkling gemstone or shiny new gadget. Other times, it's another darned pair of neutral-colored socks from Aunt Millie. We can't control what other people give us during the holidays, but this year, we can control what we get from our rendering software.

If you're tired of getting the same old stuff from your rendering software every year, why not get more with Artlantis 4? Now through December 31, 2012, we're giving you the opportunity to sock away the savings with 20% off Artlantis Render & Studio first-seat licenses and 10% off selected Artlantis Media volumes.

Whether you like Artlantis for its world-famous speed and ease of use, or you delight in the world-class quality of the optional Maxwell Render engine, there's no question that with Artlantis, your workflow and renderings will benefit year after year. Download the free Artlantis demo today and see what a difference 30-days can make.

We hope you have an enjoyable and safe holiday season this year!


"Sock away the Savings" Promo Pricing
Download the Artlantis 30-day Demo